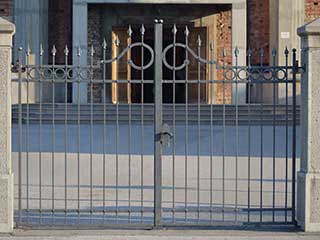 Your home's security is a serious matter, which is why we here at Gate Repair North Richland Hills are offering services related to the installation of new residential security gates, as well as any maintenance and restorations that may be required to ensure that your home is properly secured. So, if you are unsure about the security of your home, or would simply like to ensure that your gate is protecting you and yours as it should, feel free to contact one of our technicians for more details.
Residential Gate Repair
Nothing lasts forever, and your gate at home is no exception to this rule. The ravages of time, pressure and even the weather are but a few causes for possible failures, and so the time may come when you need to have your residential gate repaired by a technician with the know-how to get it up and running again. If your security has been compromised by a faulty gate, be sure to have it dealt with as soon as possible by contacting us for repairs.
Maintaining the Condition of your Gate
With regular maintenance and thorough inspections, you can extend the lifespan and functionality of your gates and residential openers indefinitely. Regular upkeep also ensures that your gate is always being operated safely and will delay the need for costly repairs. Speak to one of our technicians today about our maintenance services geared towards helping you get the most out of your gates.
Let us install your Gate for you
Our team specializes in installations and upgrades for residential gates, and it is because we work with a selection of products from various leading manufacturers that we can give you a choice on which components would best suit your needs. Speak to our technicians for help with selecting a solution which compliments your home, and we will get to work installing it as soon as possible.
So give Gate Repair North Richland Hills a call today for more information on our offers and services.
Count on us when it comes to:

Multicode Remote

Phone Entry Systems

Parking Garage Gates

Commercial Gate Service