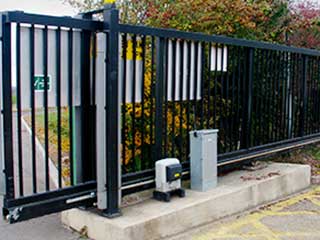 To those looking at learning a little bit more about gates for either installation, maintenance or repair purposes, the scope of the industry can be a little daunting. We'll try to cut through most of the confusion here for you by taking you through the first big learning curve: the most common different types of gates and their uses. So without further ado, here they are:
The Sleek Slider Type
As you can imagine, this type slides instead of pivoting in order to open and shut. In order to allow for the installation of a sliding type entrance you will need to have enough space on one side of the entryway for the entire width of the entrance space to slide away into. Most frames slide on wheels within a track, not unlike the sliding doors found in many households. These are great for driveway entrances as they tend to not have a complex break-down-able moving system. For snowy areas, cantilever sliding types are ideal as they are squished between raised wheels and don't have any wheels on the ground that would otherwise get slowed down by slush and debris.
The Handy Swinging Type
This type can be likened to any door in most homes as they simply pivot to open inward or outward. Be aware that it's usually better to have an outward swinging type if yours is opaque because the person pulling on it knows what's coming unlike the hapless bystander on the other side who would get hit by an inward opening swing. On the other hand, if you do go for an outward swinging type you'll need to set it back enough from the street, so that it doesn't force the user off the sidewalk with its opening swing. Swing types come in a variety of aesthetics with both double and single frame forms available.
The Basic Barrier Type
Although these aren't common as electric residential gates, they are still worth mentioning as they suit some purposes very well. These barrier types are usually made up of one long length of frame positioned at a certain height horizontally above the path or road. This frame arm is then lifted at the command of an electronic system and lowered after the person has passed by it. Think about the last time you were at a ticket controlled parking building, you probably encountered a barrier type gate there.
Does It Even Matter?
When asked if gate types matter, the answer is yes. Different types will require different openers and electric motors as well as other things. If you're going to call a repair service company, do check what type of entrance system you have first if possible.