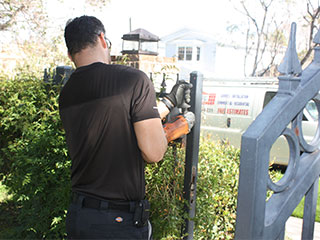 A gate is an important part of a house, and its maintenance is in the best interests of the owner. Since it is made up of several moving parts – both mechanical and electrical – there is a natural tendency for it to undergo wear and tear. We focus on repairing such parts that are worn out due to extended use.
Our technicians are capable of fixing all types of parts irrespective of their make or model. From gate opener repair to solutions for alignment issues, we offer a wide range of services to our customers. We also focus on common problems such as wheel imbalance, loose or rusty hinges, battery issues, and minor faults in openers. It is often mistaken that certain parts of a gate cannot be repaired, but in reality, they just need proper examination. Our expert team is well-versed in isolating the problem in a component, and efficiently fixing it.
Over a long period of time, some parts may also begin to corrode or rot, which can have a serious effect in the overall functioning of the gate. Hence, we recommend our users to subject their properties to periodic maintenance and quality checks.
Following are some of our best repair services:
Say Goodbye to Alignment Issues
The problem of wrong alignment is a common issue for all types of driveways – be it a swinging gate or a sliding one. It is mainly caused by mishandling of the doors or malfunction in the opener. Using more force than what is required to swing or slide open the doors can also result in displacement of their alignment. This can obstruct free movement of the doors, which can further cause problems such as breaking of a hinge or loosening of a bolt.
In such cases, it is best to seek expert help rather than tinker with it singlehandedly. Alignment issues are serious, and our technicians are skilled and well-trained in repairing them.
A Broken Hinge or a Faulty Latch? Help is here
Minor issues such as a faulty latch or a broken wire clip may not require urgent inspection, but delaying their repair can lead to other problems in functioning. Hence, it is a good practice to always keep such issues under check. As a driveway gate repair company that believes in repairing over replacement, we also provide solutions to such minor problems. We constantly update our tools and techniques so that we can fix even the most uncommon problems.
For manual and automatic gate repair services, get in touch with the professionals.
You can schedule doorstep assistance via our website or by simply giving us a call.
Want more? Let us take care of:

Steel Gates

Elite Gate Opener

Gate Wheels Repair

Linear Gate Intercoms