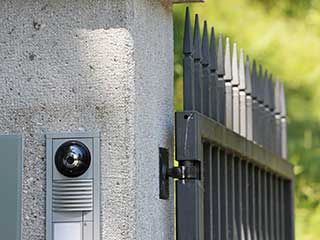 Gate Repair North Richland Hills has earned the approval and praise of clients through years of providing the best gate repair service in the business. Our company has compiled a group of technicians who know every trick in the book and have every tool needed to fix residential gates with major or minor defects. The aim of the business is to help people who do not know how to address or manage the problem of a faulty residential gate.
Superior Quality Control
Consistency in the quality of the service is the main reason why Gate Repair North Richland Hills has become such a trusted brand in the industry. We believe that each and every single client of ours deserves the best effort from our technicians at a price that they can be comfortable with. Hence, we strive to ensure that no client is left unsatisfied with our services, whether it be a full on replacement or a thorough repair work. We are also aware of the fact that a single flaw in the gate can turn out to be major security concern for you. This is why our experts are trained to make sure that not a single defect is left unaddressed once the repair service is complete.
Are You Looking for a Repair or a Replacement?
We have technicians who can conduct both repairs and replacements as per your requirement.
When it comes to repairs, we focus on coming up with a proper diagnosis of the problem. Once the problems are brought to light, the technicians quickly carry out an appropriate repair job that gets the residential gate working again. There is a wide range of repair services that are currently on offer with some of the most recommended ones being:
Gate Alignment
Intercom System Repair
Minor Repairs
Hinge Welding Repair
Gate Opener Repair
In the event that the gate is beyond recovery, we suggest a complete replacement with one of the many exclusive products that we have in stock. Our amazing collection includes the best wrought iron and wood iron gates in the market. We can also provide custom made gates that fit your personal style and preference.
Besides replacing the gate, we can also provide smaller replacements. For instance, faulty hinges can be replaced with new ones. The same goes for gate openers. You can also have certain worn out sections of the gate replaced with new parts.
Give Gate Repair North Richland Hills a Call to Have Your Problems Solved
Instead of wasting your precious time and energy over self made plans of fixing your gate, you can simply let our group of experts handle your problems. You are virtually one call away from having your residential gate repair or replaced by expert professionals who know how to bring about a smile on a worried client's face.